Regional Jail Transportation Systems
There are 20 separate courts with 29 separate Judges within the six member jurisdictions. It is a complex endeavor to coordinate transporting approximately 2,900 inmates monthly.
CCNO has its own transportation department to better accomplish getting inmates to their required locations. The personnel in this department consist of one supervisor and nine officers. This department maintains six transport vehicles.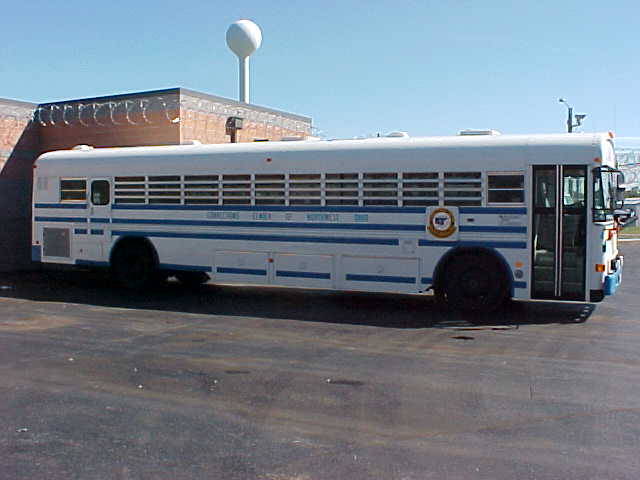 Vehicles presently designated for inmate transport are three 40-passenger busses, one 15-passenger van, one 12-passenger van and one car. These vehicles have special equipment for inmate transport, e.g., one or more inmate partitions to separate by gender or security level; windows screened or barred; shotgun holders; two-way radios; cell phones and a bathroom.
In order to ensure safety and promote uniformity in restraint application, policy requires restraints to be utilized based on certain criteria.
Routes have been established to keep uniformity and consistency with the courts and sheriffs served.
Necessary documents for transport vary depending on the type and reason for transport. CCNO generates a "Release Authorization" form for releases. The officer that removes the inmate from the facility signs this document.
Two "Transfer Authorization" forms are printed for court appointments and community workers. The transporting officer takes both forms. One is signed by whomever CCNO turns the inmate over to, i.e., Sheriff's Office. One form is retained by CCNO. The other form is given to that agency for several reasons, one being that it contains a listing of any precautions on the inmate, i.e., escape hazard, suicidal tendencies, etc. Secondly, some agencies have CCNO sign this form so that they have a record of us taking custody of the inmate again.
To pick up new inmates, CCNO needs to have a commitment or some type of written order to hold the individual at CCNO or another agency.
The following is a list of the common locations served:
Comprehensive Alcoholism Service System (Toledo)
Correctional Treatment Facility (Toledo)
Court Diagnostic & Treatment Center (Toledo)
Defiance County Sheriff Office (Defiance)
Fulton County Sheriff Office (Wauseon)
Henry County Sheriff Office (Napoleon)
Intensive Supervised Probation (Toledo)
Lucas County Electronic Monitoring Unit (Toledo)
Lucas County Sheriff Office (Toledo)
Lucas County Work Release (Toledo)
Napoleon Municipal Court (Napoleon)
Northcoast Behavioral Health Care (Toledo)
Northwest Community Corrections Center (Bowling Green)
Williams County Sheriff Office (Bryan)
All Ohio Department of Rehabilitation & Corrections locations
The transportation department has utilized their vehicles and equipment to assist in many special projects with area law enforcement agencies when there is a potential for mass arrests such as KKK rallies, drug sweeps, non-support, warrant sweeps, etc.
On occasion the busses are used to transport tour groups to and from the facility for public relations. Other special transports are done on a case by case basis, such as special or high security court appearances, mass transports for other agencies during natural disasters, etc.
The CCNO transportation department provides comprehensive, cost effective transport services. This service is vital to the success of the regional jail concept. This service allows law enforcement agencies to serve their communities better by staying on the streets and serving their individual courts.